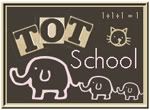 We are new to Tot School! Monkey Girl is 33 months old and I can't believe we are just getting started!
Please read the "About Me" section to learn a little bit about our family. After much self-doubt and deliberation I have decided to begin Preschool Corner and Tot School at home for our 2 youngest. I have always wanted to homeschool, but have also always had to work - I am the family's primary breadwinner. Dinosaur girl has Type 1 Diabetes. When she was diagnosed at age 22 months, it was clearly stated to us that she needed one parent at home to care for her. After some discussion and taking a look at the hard cold number facts, it was evident to dear hubby and I that my job as an RN would provide a more secure living and better health insurance for our family. So, Daddy is the stay home parent (well..he works very part time for his dad, when I'm home or he takes kids with him). I don't view Homeschooling lightly, and I'm still not sure I can do it......but I really want to try - so, HERE WE GO!
Monkey girl is very active....and strong-willed. I think we made it through about 20 minutes today! Here she is with pom poms.....we did everything with pom poms. Made magnets, put the magnets on the fridge, magnetized them to a muffin tin, talked about colors, sorted them into an ice cube tray (though she had to do this HER way), and then she put them in a laundry basket and pushed them around the house. I called us done at that point!
Here she is just playing with her "pom poms".
She also really enjoys my IPOD touch! There are a
few apps she enjoys
......Preschool Adventure, Baby Piano, Animal Hide and Seek, and Dinosaurs Roar! (a talking book).
We did some more pom pom stuff (no camera on this day) - I printed the Bird Magnetic Pom Pom activity from the free printables section at
Childcare Land.
She used her beloved pom pom magnets to fill in each circle!
We also spent some time together talking about how to treat the dog. We have a dog, 2 cats, and fish. The girls have never been cruel or mistreated them, but today we talked about how our dog likes to be petted (while petting her) and what all her body parts are.....also, the things we need to do to take care of our dog. The dog loved it, and Monkey girl really listened - she loves the animals!
Here she is doing the
Animal Fur Match
file folder game from Homeschool Share (seen on
Confessions of a Homeschooler
) - she did this for a long time!
I'm linking up to
Tot School at 1+1+1=1
!